FLMC F2100B/T cnc plasma cutting controller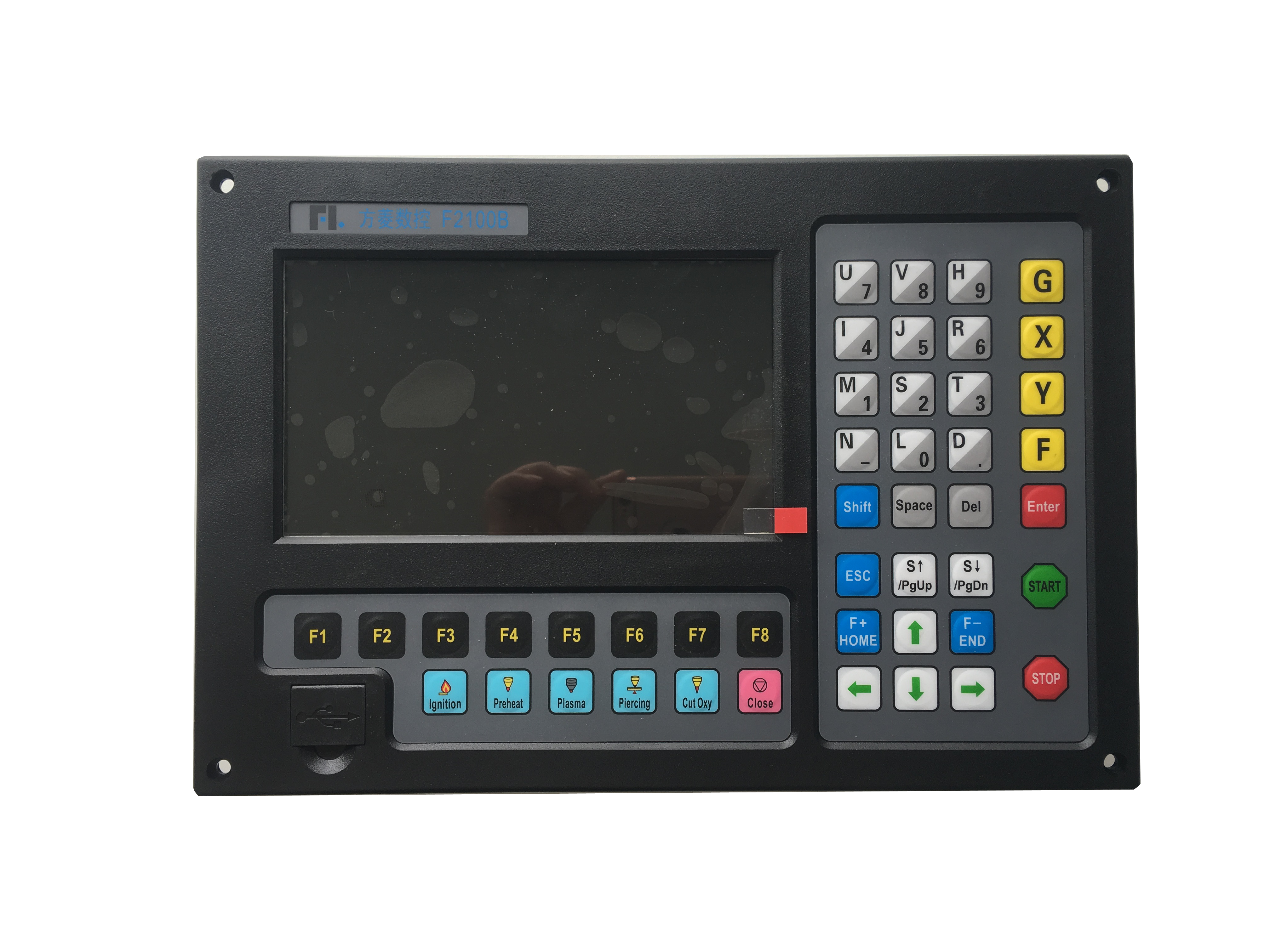 Model: FLSK-F2100B/ FLMC-F2100T
FLMC-F2100B/T
Made in china.
Low cost CNC Plasma cutting machine used CNC controller.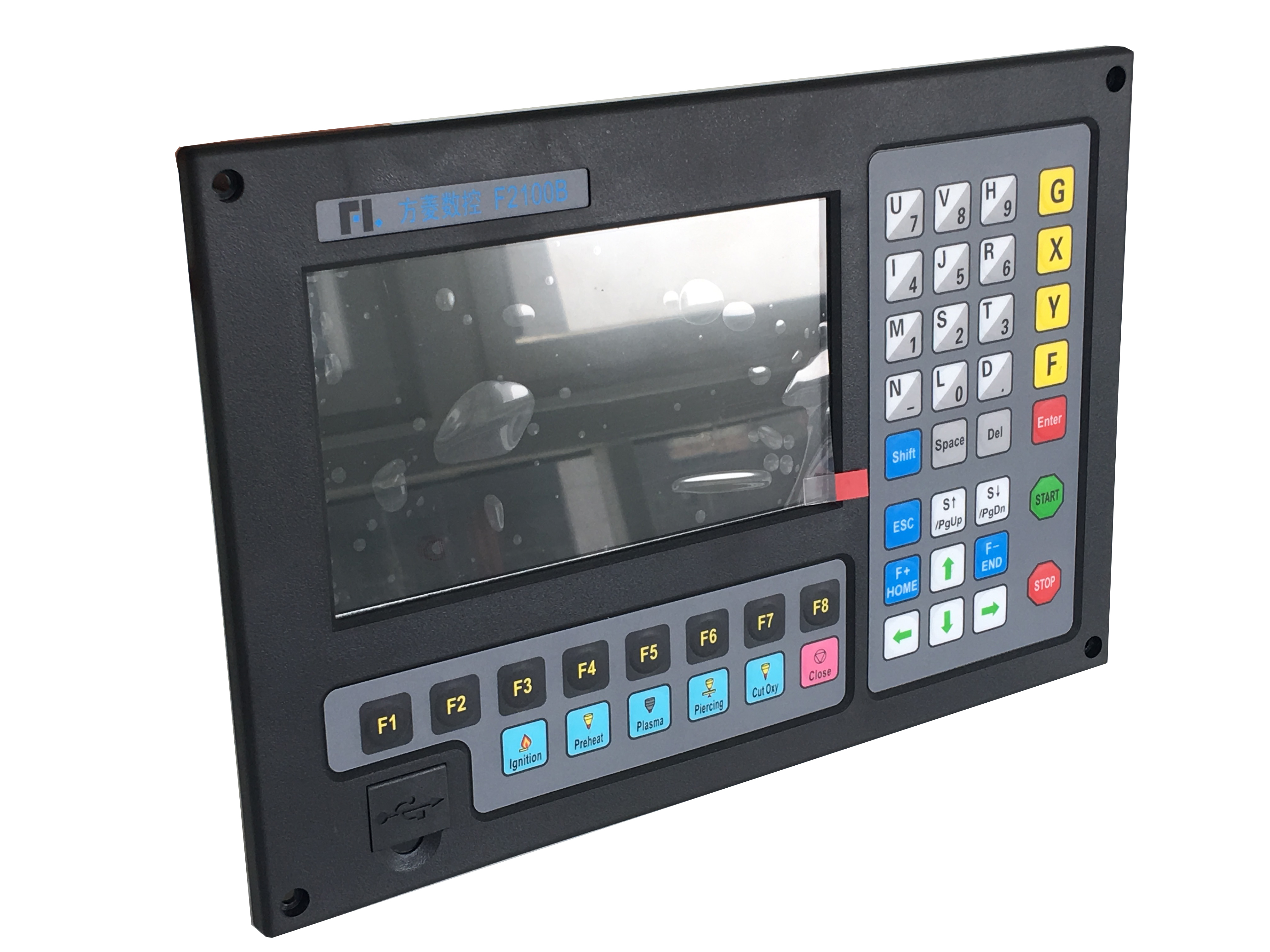 Work Condition
Working Temperature, 0℃~50℃. Relative Humidity, 5~95%.
Operation Voltage: DC +24V.
The controller should be installed in a cab which can provide protection from powder.
The controller would be better used in the situation without high voltage radiation.
Features:
1.The cutting machine CNC system is suitable for all kinds of portable flame/plasma cutting machine, and various advertising,
stone and other small desktop cutting machine.
2. The system is designed with high reliability, with plasma interference, lightning protection and surge capacity.
3. Practical flame/plasma cutting process.
4. The available wireless remote control to realize the long distance operation.
5.Breakpoints recovery, electrical recovery function of the automatic, automatic breakpoint memory.
6.. FLMC-F2100B Any choosing passage and perforation point processing function, it can be arbitrary line escapement in machining.




Technical I
ndicator
1) Control Axis: 2 axis linkage(3 axis customizable)

2) Control accuracy: +/-0.001mm

3) Coordinate range: +/- 99999.99mm

4) Max pulses: 200 kHz. Max speed: 15,000 mm/m

5) Max lines of code: 150,000lines

6) Max size of single code file: 4M

7) Time resolution: 10ms

8) Working Voltage: DC +24V direct-current power input, power > 80W。

9) Working Temperature: -10℃~+60℃. Relative Humidity, 0~95%.

10) Max power of drive arc THC motor: 45W (suitable for models with "T"). if need more power, can select maximum value: 200W.






System Interface
a) 15 pins SMA Male interface of 2 axes of motor drive.

b) 25 pins SMA Female interface of 16 channels optoelectronic isolation output ports max back flow current 300mA.

c) 25 pins SMA Male interface of 16 channels optoelectronic isolation input ports,max output current 300mA.

d) USB interface on the front panel, for the convenience of transmitting cutting code.

e) Extend IO input/output ports, PWM input ports, analog input ports.

The following three interfaces are only suitable for models with "T":

f) Selection of partial pressure proportion of arc input: 1:50 or 1:100

g) 5 cores THC motor output and limit input ports.

h) 7 cores arc pressure and position input port, arcing signal output port.




F2100 B/T Hardware Configuration
1. Monitor:7 inch, 800*480, high definition 16 million colors and high brightness LCD

2. Memory: 64M SDRAM

3. Program space available for user: 256M electronic hard disk

4. System master frequency: 400MHz

5. USB: USB 1.1 front interface, at least 16GB U disk supportable

6. Keyboard: electronic PCB foil keyboard

7. Chassis: full-steel structure completely shielded which defends electromagnetic radiation, interference and static electricity










Cutting Samples


















Your cart is currently empty.