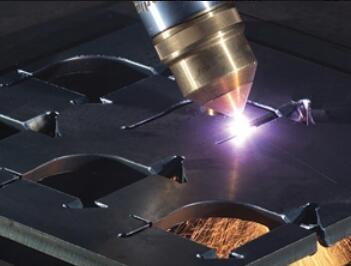 Some brands of the Plasma source
Wednesday, 11 April 2018

1

3300

0
Plasma source (plasma cutting system) , it is the most acceptable cut type.
Its main cut thickness is from 0.5-25mm, of course if the cut thickness is over 25mm, if use the plasma to cut, the plasma source will be very expensive.
So we will advice the customer to use the gas / flame cut.
Now we recommend some world famous brand of the Plasma source.
1. Hypertherm from USA
Over 50 years of the history in the plasma source.
Hypertherm designs and manufactures advanced cutting products for use in a variety of industries such as shipbuilding, manufacturing, and automotive repair. Its product line includes handheld and mechanized plasma systems and consumables, as well as fiber laser and now waterjet products, in addition to CNC motion and height controls and CAM cutting software. Hypertherm systems are trusted for performance and reliability that result in increased productivity and profitability for hundreds of thousands of businesses. The New Hampshire based company's reputation for cutting innovation dates back more than 50 years, to 1968, with Hypertherm's invention of water injection plasma cutting. The associate owned company, consistently named one of the best places to work in America, has more than 1,300 associates along with operations and partner representation worldwide.
Website:www.hypertherm.com
2. kjellberg from German
Kjellberg Finsterwalde Group have emerged from the former Kjellberg Finsterwalde Elektroden und Maschinen GmbH. It was founded in 1921 by the Swedish inventor and business man Oscar Kjellberg who received the German imperial patent no. 23 1733 for coated welding electrodes in 1908. Kjellberg Finsterwalde has been among the world's leading manufacturers of plasma cutting systems for decades.
Website:www.kjellberg.de
3. Thermal Dynamic from USA (Now belongs to the ESAB)
Since plasma pioneers James Browning and Merle Thorpe incorporated Thermal Dynamics in 1957, our cutting-edge experience has been evident in every product. Whether you're looking for automated or manual plasma systems, integrated support or high quality consumables and accessories, Thermal Dynamics brings innovation and performance to every solution.
The story of Thermal Dynamics began in 1953, when Dartmouth College Professors James Browning and Merle Thorpe developed their first plasma spray torch, the F-40 in their garage located in Wilder, Vermont. The pioneering work of the founders focused on developing a high-temperature, electric arc metalizing torch. This design created a plasma arc jet twice as hot as the sun's surface, introducing inert gases to the arc jet coupled with constricting and stabilizing it resulted in a high intensity, high energy density arc that allowed the torch to cut metal like butter.
Website:
www.thermal-dynamics.com
4. Cebora plasma from Italy
Cebora S.p.A. - Welding Dept. - is a leading company in the manufacture of welding (MIG-MAG, TIG, MMA, spotters, plasma) and plasma cutting equipment, well known in the world since 1954 thanks to the quality and to the reliability of its products. The product range includes machines of medium and high technology, suitable for several sectors.

Website: www.cebora.it
5. HUAYUAN plasma from China
Chengdu Huayuan Electric Equipment Co., Ltd. is a high technology enterprise, who specializes in R&D, manufacturing and sales of all kinds of arc welding power sources, also automatic welding and cutting equipments.
Established in 1993, headquarter of the company is located in Chengdu Wuhou science park. Its floor area reaches over 57200 m2, and employees are over 450 people.
The company has complete research, production and quality control equipments. Through years' technical and running experience, company has successfully developed HUAYUAN WELDER brand MMA, TIG, MIG, SAW, Stud welding, Electrode slag welding, air plasma cutting, CNC cutting and other automatic welding equipments, nearly more than 30 series and 200 models. With an annual production about 100000 sets, now it is one of the largest welding and cutting equipment manufacturers in China.
Website:www.hwayuan.com

Want learn more infomation, welcome pay more attention us: www.collectcnc.com



Your cart is currently empty.